Last modified: December 29, 2016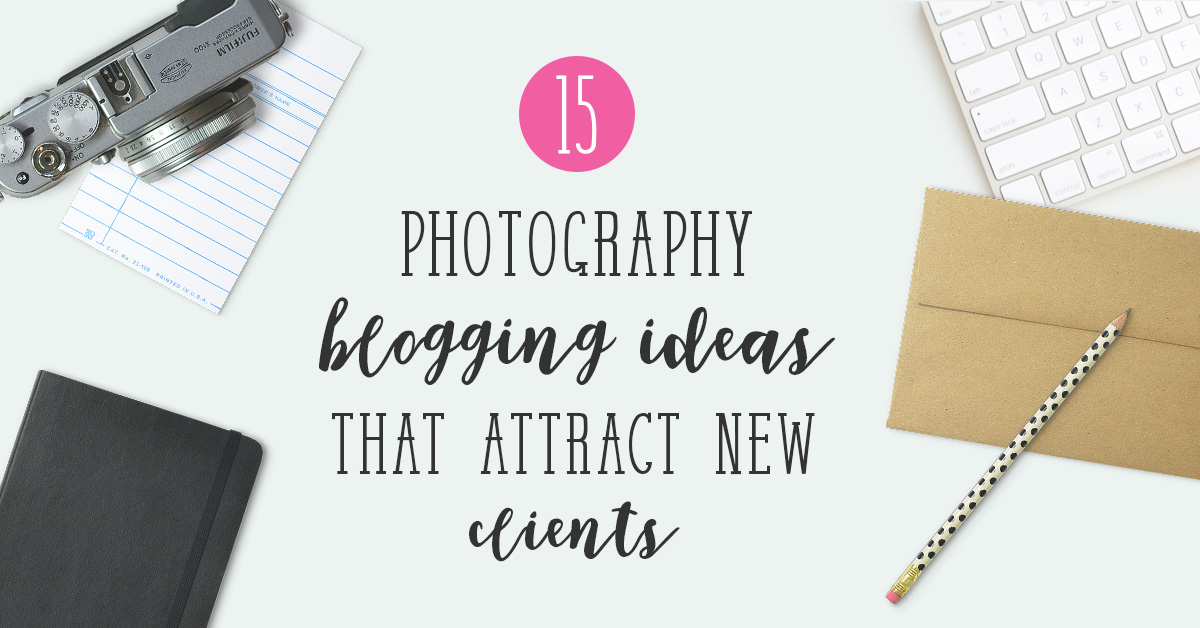 As a photographer, it's important to attract your ideal client, each and every time.
Sure, everybody wants clients, but when the "wrong" client comes along, doing your job becomes a real pain.
What's a "wrong" client?
You know the type… Not a bad person, but rather someone with totally different expectations from what we have to offer.
And if that someone has problems with understanding our services or with communicating expectations, both the client and the photographer will end unhappily.
Of course, there's no secret recipe for having a great communication with your client and being able to deliver the best you can.
It's all a matter of:
Making your photography services and the way you work crystal-clear;

Drawing in those customers who appreciate your way of doing things.
How do you create a business where you attract the right person, all of the time?
I dare to say – Blogging.
When done right, blogging can play a key role in how you attract and book the right clients. But you must blog with the right strategy.
I guess it's a given that, on your blog, you're posting images from recent sessions. And that's one smart way to go about your perfect strategy.
But there's so much more that you could be offering to your clients…
How about:
Entertaining them;

Educating them;

Guiding them;

Answering their unspoken questions?
We've briefly talked about blogging in our previous post about marketing on a budget.
Yet based on the feedback I'm getting from so many photographers in our community, I'm guessing we could all use going deeper into the subject.
So I've compiled a comprehensive list with 15 of the most various, effective and out-of-the-box photography blogging ideas for your photography business:
Personal blog posts that create connection and generate loyalty
1. Tell Them Your Story, Your Why
We all have a reason why we love photography and a purpose that drives our passion day after day. Your clients would love knowing where your heart for what you do comes from and sharing your story will give them the satisfaction of seeing another facet of your personality. When you do so, aside from creating a connection with them, you also reveal your human nature.  
Showing your human nature brings you closer to your ideal clients. Much of the photography blogging ideas in this post are focused around jus that. They don't just want to contract a service. They want to work with a human being that understands them. Showing the person behind your photography business is the best way to gain their trust and make them feel they can connect with you. Allow them to understand you better and they will want to work with you.
2. Share Vignettes From Your Life
It might feel weird to write on your photography blog about an important conversation you had with a friend or a walk on the beach… But again, people love nothing more than getting a little window into your life while following you along your blog. So while you open a new communication bridge with your potential clients, you also make them feel like they know you better and care more about your work.
3. Write About The Things You Love
By sharing the things that you love and trust, you're not just letting your readers enter into your life, but also offer them useful information. If they happen to like the same things as you do, once again, you build a connection, you gain their trust and you entice them into visiting your blog more often, not just for photography-related tips.

4. Compile A List Of Less Known Things About You
Write down a catchy title and your readers will rush into reading all those things that you've been keeping away from their sight.
It might be that your dog forces you to wake up early in the morning and take him for a walk.
Or that your kid won't go to sleep until you read him a bedtime story, every night.
Or that your parents were furious when you gave up studying the law to become a photographer, but now are bugging you to schedule photography sessions for them.
You decide how personal you want to make it, but keep in mind that all these will change you from just another business face into a real human being.
Practical photography advice that educates your ideal clients and builds trust
5. Give Valuable Advice To Your Target Audience
Chances are that you've seen more weddings than your bride has, even if you're just starting out. So why not write a post that shares some of those pearls of wisdom you've learned along the way? Focus on things that help the timeline, things that they should think of, things that shouldn't be forgotten or overlooked.
No matter the nature of the event, giving these inside tips will be extremely valuable for your potential customers. People look up for such information online all the time. If you already have it on your blog, you will draw in more traffic from your target audience. It might not be too obvious, but this is an interesting content marketing strategy to follow.
6. Teach Them How To Best Prepare For A Shoot
This is definitely something they're interested in and that they need to know.
Introduce them to the most important aspects of a successful photo session by providing information they didn't even know they need.
Answer their questions in advance.
Guide them and help them better understand what to look for and what to avoid when choosing their wardrobe.
In the end, you show implication, expertise, and know-how, while they will love you for making their lives easier and their photos more spectacular.
7. Create A FAQ For An Entire Photography Service
By putting together all those questions that customers may have and their answers, you provide an overview image of how your service works and what they should aspect. It also shows that you know your thing and you are ready to guide them through, taking out some uncertainties and worries. Furthermore, it prepares them for working with you and the more they know about it, the more interested they will be in doing so.
8. Make Suggestions With Great Shoot Locations Or Poses
This kind of blog post shows that you are creative and constantly trying to improve your business, experiencing new things. It also shows that you are willing to inspire them and even if the client chooses a traditional location, you prove that you're willing to stretch as a photographer, whatever their preferences may be.
9. Show How Your Clients Use Your Physical Products
Chances are that you're making most of your money out of the end product. So by showing your future clients how your current clients are taking advantage of your work, you make them visualize themselves in the same context. Show them wall collections or albums that your clients created and they'll say "I want that too!".
10. Explain How You Help Clients Pick Their Best Photographs
Taking photographs is one thing and using them afterward is another thing. If you explain this process, your prospective clients will better understand not just your way of thinking, but also the utility of your services. Want to learn more about the benefits of helping customers visualize the benefits of your artwork? Take a peek at this article with Habits of Top Performing Photographers.
Stories that offer a different perspective and a deep understanding of your services
11. List The Details Of A Photo Shooting Process, Step-by-Step
Sure, you've prepped your audience with a FAQ on what to expect when working with a photographer… But why not give them even more details, explaining all the steps of a shooting process, with photos included?
Write down a story of what was the scope of the session;
What were the challenges;
What you did;
What you enjoyed;
What you disliked and why;
What problems did you have to fix and how you did it.
All these will allow them to know you better and realize that they would like to have you around for a shooting session.
12. Recount Behind-The-Scenes Stories
Most people, who are just starting out looking for photography services, are clueless on what it takes to put together those amazing snapshots you showcase on your portfolio. A story that shares something they don't have access to will, therefore, be extremely appreciated.
If the baby smiling like an angel in the photos cried out loud for 2 hours before you managed to take that snapshot, share the story.
If you had a terrible cold and spent your shooting session literally on high temperature, let them know.
If you took the photographs in a terribly looking outdoor place or somewhere with poor light and yet you pulled those amazing photos, by all means, brag about it.
After all, your message would be "Look how challenging it was and what amazing snapshots I got out of it!"- can you think of a better advertise?
13. Nominate Your Favorite Client Shoot Of The Past Season
This is one of those photography blogging ideas that are not just effective, but exciting as well. Clients want to know how you feel about your work and want to know your favorite shooting experiences. Help them connect with you, have a better sense of how you prefer working and whether you are on the same page or not. If they see that you really enjoyed a shoot like the one they may be thinking of, it will be all-the-more-encouraging to them.
14. Present A Personal Photography Project
Even the most skeptical clients are convinced that you are doing your best when it comes to you. So if your personal project looks that great, it really means you can work that great. You showcase your talents, without client restrictions or preferences, and you show a little window into your creative personality, as well. All these can only work wonders for your business.
15. Expose Your Work Outside A Shooting Session
They must be thinking that all you do is showing up at the actual shooting. But you also:
Edit photographs
Prepare yourself for the shoots
Meet with clients and discuss their sessions
Work on better setting up your studio or finding new venues
Attend meetings with other professional photographers and learn new things etc.
Whatever you do and share, it helps potential clients see all the devotion and extra time you put into making sure the shoot is super magical for them. They will understand your working process and appreciate it even more. Hey, they might be even more willing to accept your higher rates because they now truly understand how much work you put in.
Long story short, your photography blogging ideas don't have to be complicated.
It doesn't even have to focus exclusively on photographs.
Whatever you do in the studio, in between your shooting sessions and even from the moment you leave the studio until next day can be a source of education, entertainment, guidance and all the other things that your ideal clients crave for.
Use your blog to become more than a photographer to them. Become someone they know, someone they trust, someone they want to take photos with, and the positive effect on your business will be substantial!
Do you have some great photography blogging ideas that aren't listed yet? Share them in the comments or on our Facebook page!