Last modified: December 29, 2016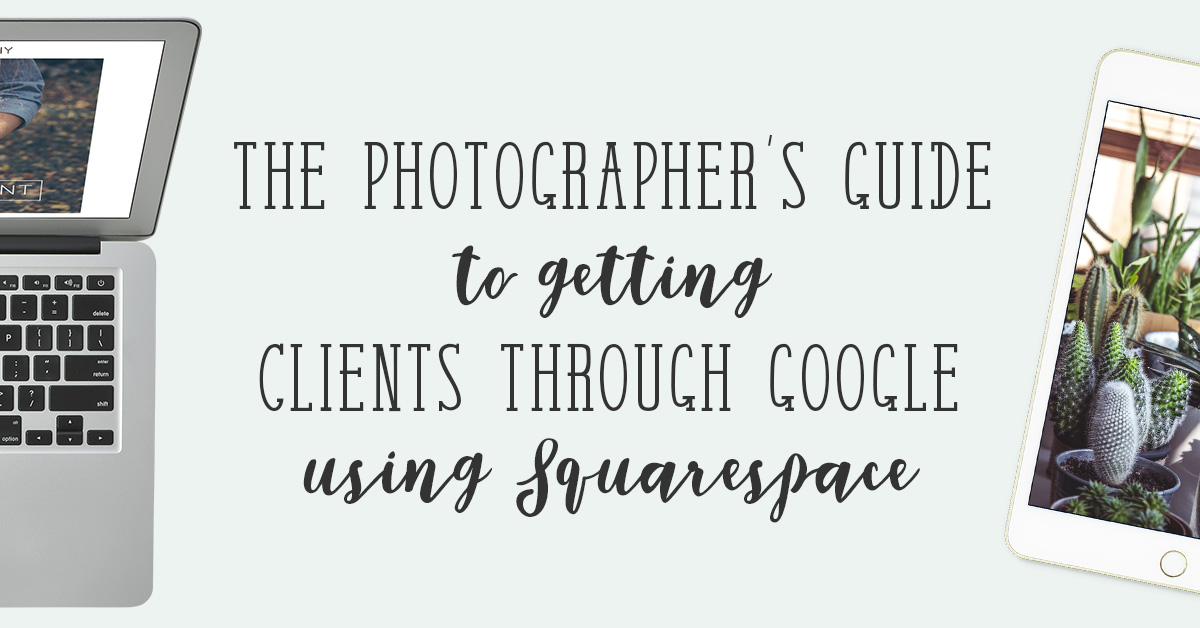 Squarespace is all the rage these days.
Us photographers appreciate it particularly for all those modern, attractive and responsive design options that this website builder provides. It also allows us to easily look like a webdesign pro in just a few clicks.
But a slick design and professional appearance aren't quite enough. In order for your website to bring in new clients, you need to optimize your website for the search engines.
Otherwise, your gorgeous portfolio will be like a shiny star from a far, far away galaxy, never to touch and never to see from Earth.
SEO, short for 'Search Engine Optimization' is essential for making your business visible in a crowded niche and help your ideal clients find you.
It is basically a combination of tweaks that you can perform to help search engines better understand what your business is about, and who they should show your website to.
Not sure what these tweaks are for your Squarespace built website?
You're in the right place. In this blog post, I'm compiling a series of the best Squarespace SEO practices that will help you improve your ranking and make your website stand out even more.
Use keyword-rich titles, descriptions, and URLs
You've probably heard of keywords – they are the exact words people type in on Google when running a search. The engine compares what they type with what shows on your website and decides if you're a good match for the topic they're interested in.
That's why your photography website should be drizzled with relevant keywords. Google will pick up on those and match them up with the search terms people are using. They will then present them with your website high in the search results, if they feel you're a good fit.
Aside from the actual content you write on your website, with Squarespace you can insert these keywords into your…:
Website title – don't just type your business name, but mention your type of photography as well. A formula such as "Business Name | Wedding/Newborn/Events/ Photographer" will work really well.

Website description – make it both enticing and conclusive for what visitors are supposed to find on your website, through relevant keywords.

Page names – for inner pages or blog posts, don't go overboard with creativity but keep it relevant. For instance, instead of "Let's get together in our cozy studio", stick to a classic "Visit our Washington Photography Studio". Nobody's googling 'cozy studio', but heaps of people are looking for a photography studio in Washington.

Page URLs – the words in your page URL (the address of that page that is shown at the top of your browser) is another way of telling search engines what your pages are about. Stick to a formula that condenses your page title, without other irrelevant details – clarity and brevity make for best Squarespace SEO practices.

Use keyword-rich descriptions for images

People love to see some examples of photographs when they're looking for a photographer to work with. They often do this by using Google image search, where images are the only results people get to see, with the option to click-through to your website.

With the right keywords used in your image descriptions, your online portfolio will show up in Google image searches more often.

With Squarespace, you can easily edit photo names and descriptions anytime. Apart from helping Google understand what can be seen in an image, these names and descriptions also serve other purposes.

All those image attributes you have to fill in should help readers better understand your messages in different contexts:

Is someone skimming your website? Relevant photo titles and descriptions will indicate the main story on page.

Are images loading slowly? Do broken images appear on a page? Alternate text and photo captions should compensate those missing photos.

Oh and, don't forget the opportunity of showcasing your customers' benefits.

Remember the article where I was telling you how testimonials help you get new photography clients?

Benefit-oriented messages have a huge persuasive power. Take advantage of the alt text and photo caption fields and talk a bit more about the context when you made those photos, why the client reached you or how the client felt going through that shooting session.

Whatever makes the reader picture themselves in the same context will bring them closer to booking your photography services.

Provide as many localization details as possible

Picture this: you're a wedding photographer residing in Washington and someone from Colorado, surfing the web for professional photography services, ends up on your website. She loves your portfolio and gets so excited about working with you just to discover, in the end, that you're from another state.

A total waste of resources for you both. Definitely the wrong way to find ideal customers online!

Of course, not everyone is using the web in this vague manner. Actually, more and more people place very specific Google searches and know how to find what they're looking for.

When they type in some search words, they often use a localization keyword for the same reason – to find information relevant to the area where they reside in. Depending on what they need, their searches could look something like this:

Newborn photographer Illinois;
Wedding photography Elgin Illinois;
Professional events photographer Boston;
Best wedding photography Richmond Virginia.

And here is precisely where localization interferes:

It helps you clearly indicate what areas your services cover;
It helps Google send to your website only the people from your proximity.

Squarespace SEO and local optimization

Squarespace helps you optimize your photography website for local searches. Your website is the best and most important place to begin with localization, so take full advantage of what Squarespace has to offer you by optimizing:

Your website title – make sure it reflects what you offer and

where

 you offer it;
The 'contact me' page – this is the place where you can include your physical address. A google maps snapshot with your studio's location is also a great idea;
In your photo captions – especially if you showcase outdoor photographs, make sure you write in their descriptions where exactly those photos were taken;
On the homepage – this is where most first-time visitors arrive; they want to find out the essentials about your business fast, so mentioning your state or city right here is good for them, as well as for your Squarespace SEO;
On your about page – here you have plenty of opportunities to give geographical clues as you speak about where you live and work.
On your blog – even though you probably have a portfolio, writing a blog article where you detail a particular shooting session is informative for your potential customers; obviously, this is another great place where you can insert localization clues.

Choose a theme that makes SEO easier

Google loves well-formatted content that helps readers scan and get the main ideas fast. It also cares about text-to-image ratios and hates it when you have too many images and too little text; for Google to consider including a page in its top ranking positions, for example, you need to have at least 300 words on it.

This means that you definitely need to put some work into describing a photo when it's by itself on a page, and not have the photo speak only for itself.

These are quite the demands that require flexible formatting options. The more flexibility your Squarespace theme offers, the easier it will be to follow these on-site optimization rules.

Luckily, Squarespace gives you tons of themes to choose from. Look for an option that is appealing to you but also allows you to juggle with:

Different headers – insert titles, headings and subheadings with every single page;

Link formatting options – make your links visible and easy to click on;

Image fields – type in names, captions, alt text, photo source links, and so on.

The ideal template shouldn't be just beautiful, but also versatile. The more content editing options come with it, the better it is to take full advantage of them all.

Make use of all the social media optimization options

Social media allows you to stay in touch with your (potential) customers. The more activity on your pages, the clearer it will be for Google that people show interest in your business.

You should focus on developing accounts and fostering interactions on the most relevant social networks for your business. Facebook and Instagram, for example, are two of the top social networks photographers should take advantage of.

In addition, provide your website visitors with direct connections to those channels. You will want users to be able to share your work, helping you gain more exposure naturally.

Squarespace allows you to implement share buttons for a wide range of social networks and also to connect accounts. Make sure you take full advantage of these options!

Set up and submit your XML sitemap

It might sound techy and complicated, but 'submitting your XML sitemap' is all about letting Google know your website structure. The search engine evaluates your website every now and then, monitoring and indexing pages and revising the new content that you added. It does so by sending robots to navigate through your website.

Just to make sure it won't overlook anything, you can speed up the process by creating this XML sitemap and submitting it through your Google Webmaster Tools account. You will actually just have to submit the http://www.yourwebsitedomain.com/sitemap.xml link. If you're just starting out, Squarespace has a very thorough help page on this subject right here.

What have we learned from the entire above?

The best way to make your ideal clients find you on Google is to optimize your website for search engines.

Basically, every time you add new content on your website, you need to have SEO in mind. This doesn't mean you have to obsess about on-site and off-site optimization, though.

Just focus on your customers, and make sure you're using the very same keywords that they would type to find you.

A couple of technical tweaks will also help, but Squarespace will allow you to make these easily.

Whenever you're not sure if or how to use a particular Squarespace functionality, confidently consult their support section.